SHOP EQUIPMENT AT AUCTION!
PHOTOS & DESCRIPTIONS OF MAJOR SHOP EQUIPMENT BEING OFFERED AT AUCTION. BE SURE TO REGISTER AT JOHN CARL'S AUCTION WEB SITE!! LINK ON "COMING SOON" PAGE
NIAGARA POWER SHEER
72" Wide Capacity, 16 Gauge Max mild steel, 230v 1 Phase, See ID tag also, Currently in use and works fine, Cutting edge very good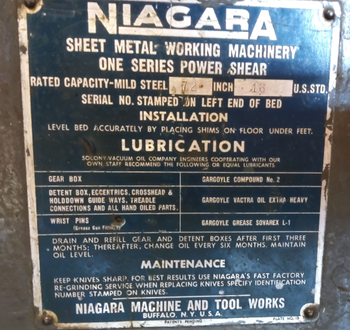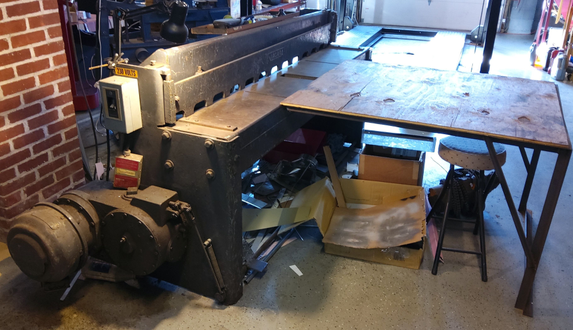 DREIS & KRUMP METAL BRAKE
8' Wide Capacity, 14 Gauge Max mild steel, Works Great, Currently in use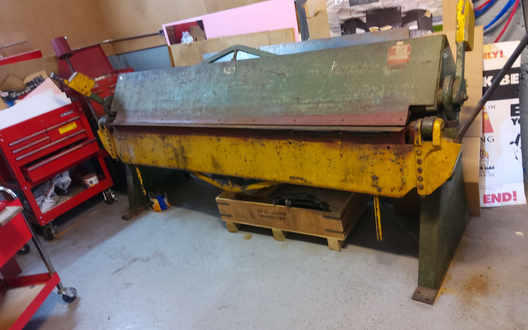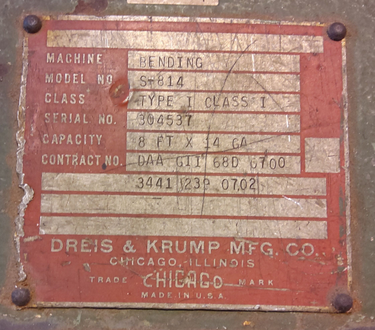 CENTRAL MACHINERY 3 IN 1 MACHINE
I purchased this new and used very little. Combo lathe, mill, drill. Lots of tooling, inside & outside chuck jaws. Lots of specs on photos. Light surface rust on some bare metal parts, "not pitted"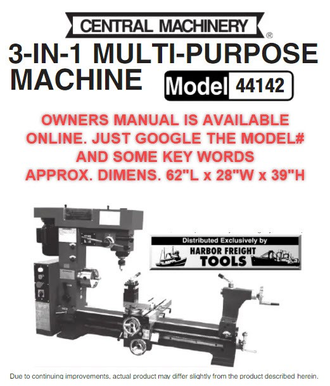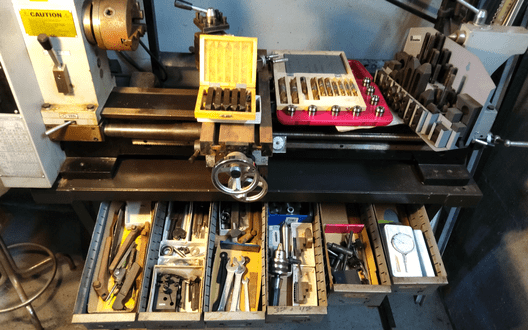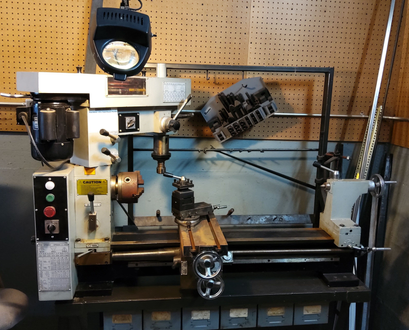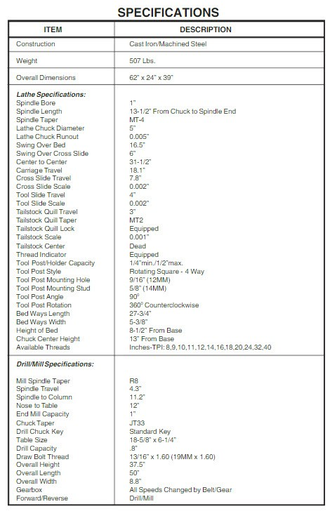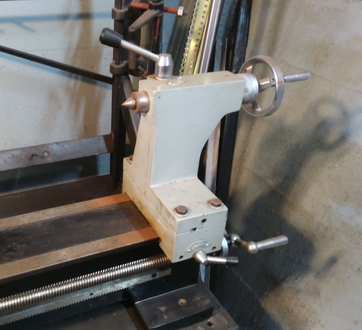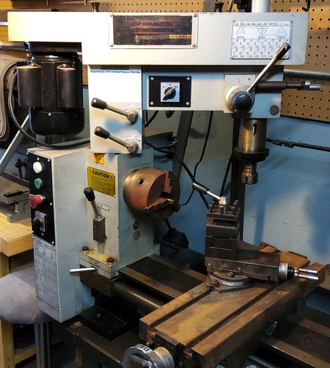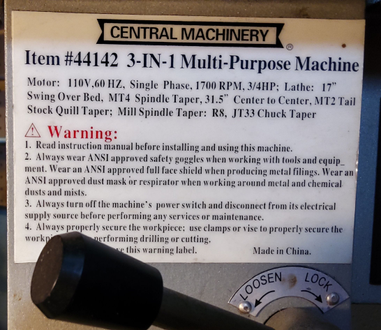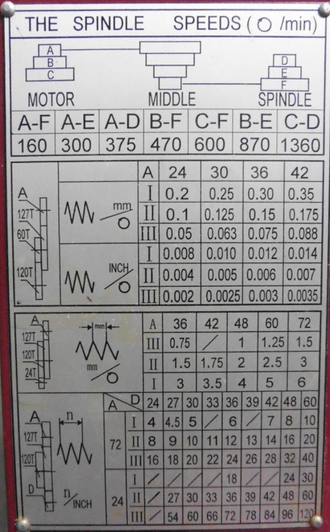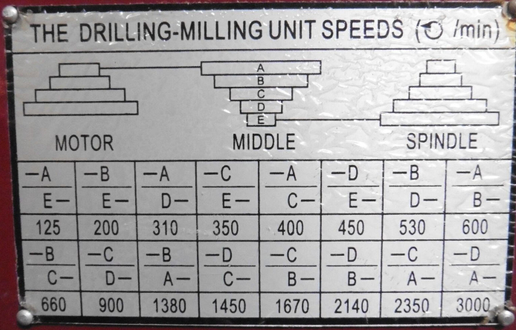 BUFFALO FLOOR DRILL PRESS
I purchsed this new, used very little. Don't let photos fool you, this is the bigger heavy machine. 12 Spd, 1 HP, 3/4" Spindle with chuck key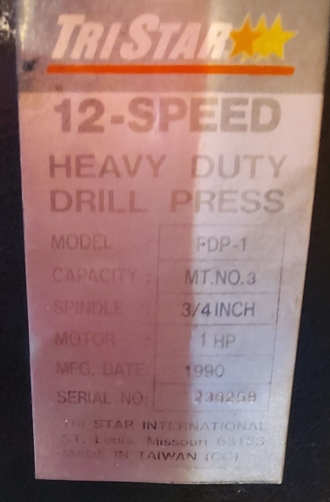 BUFFALO BAND SAW 7 INCH
I purchased new, Used this one a lot but works great, Standard size blade and there may be some extras. This is the larger model with the coolant pump (as pictured) that I never used.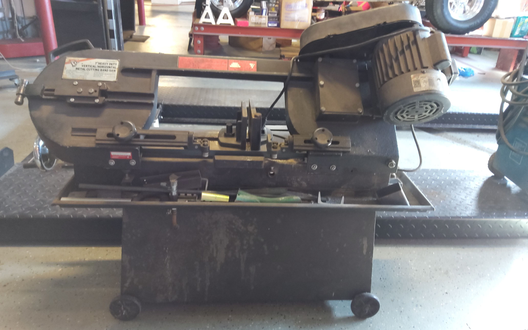 WALK BEHIND FORKLIFT
Brand name is American/Safeway? Not sure of max lift capacity as tag is faded, Similar looking new units are rated up to 750 lbs. Lifts 55", Forks are 24" W x 26" L. Works fine, Has hand brake & foot pedal jack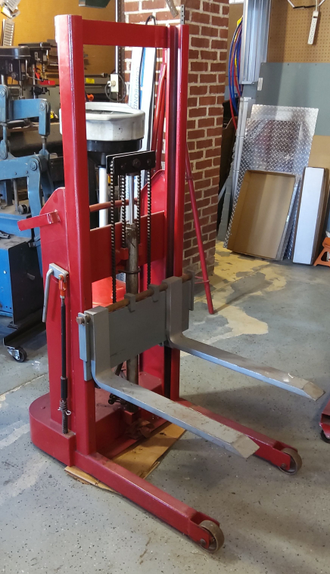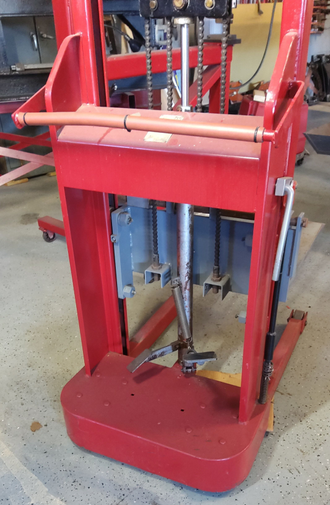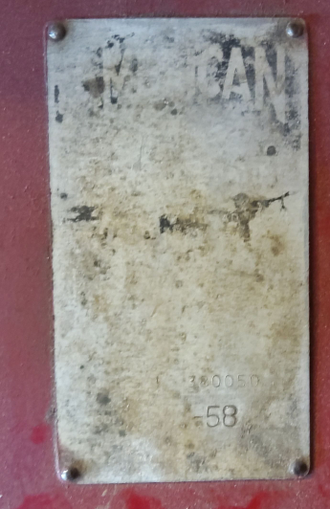 AMMCO BRAKE LATHE TABLE
"TABLE ONLY HERE" This is the extra long table. It's crazy but they want a thousand bucks for these new. You'll get a bargan on this one!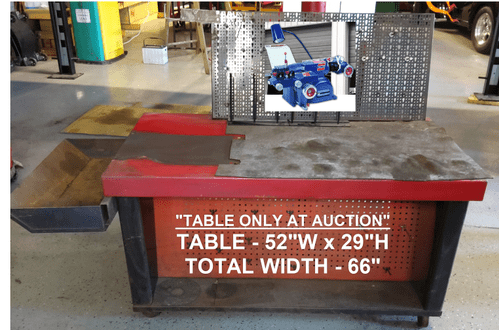 DVORAK/SCOTCHMAN IRON WORKER
Was 3 phase and I think I put a 5hp 230 v 1-PH motor on it back when I got it. Always worked great and still does, Shows some wear. Specs on photo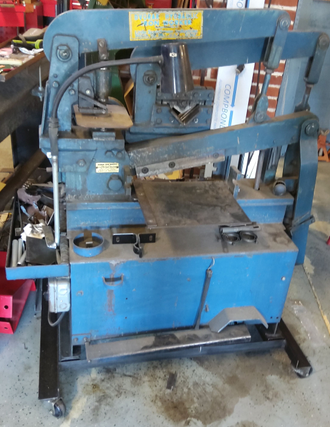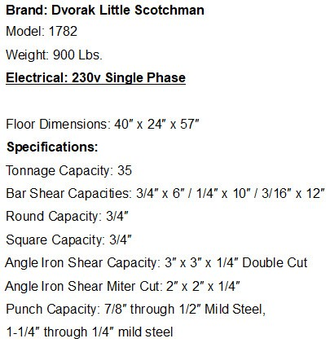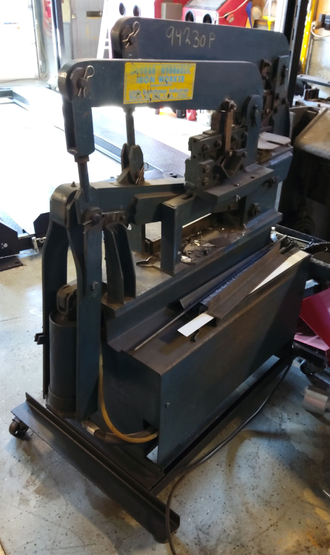 LENCO SPOT WELDER
Lenco Double lead spot welder. As with most of my equipment, used very little. Worked well last time I used it. 230 volt. Some specs on photo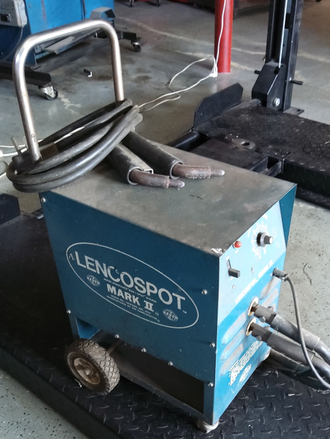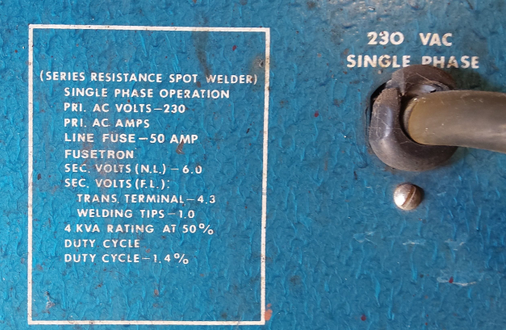 MITTLER TOOLED LOUVER PRESS
Mittler makes a nice selection of metal working tools. With the louver press, you must build your own frame and supply the pump. I've built a couple myself. Comes with both 3" & 4" wide die sets, 10 ton ram, 16 gauge cap. 1/2hp Enerpac pump, 40" depth, 120 volt. Punch those 50s Hot Rod louvers in a Jiffy! (I have a Vintage one at auction as well)
REGISTER TO BID NOW!! CLICK HERE TO GO TO AUCTION SITE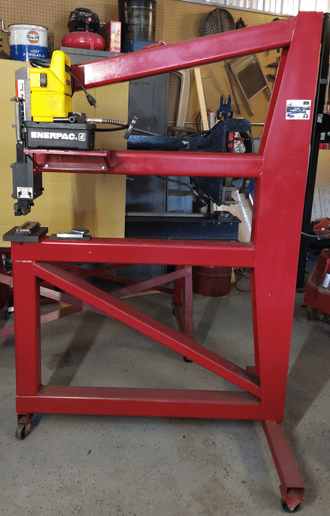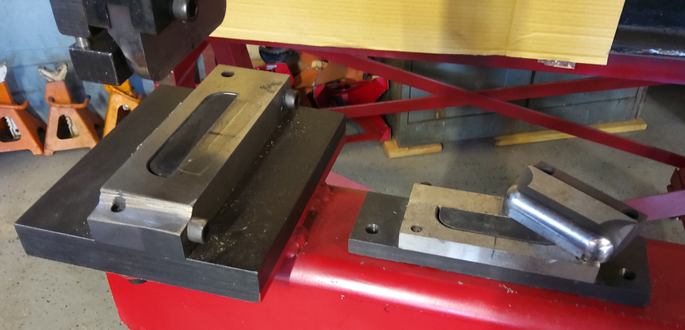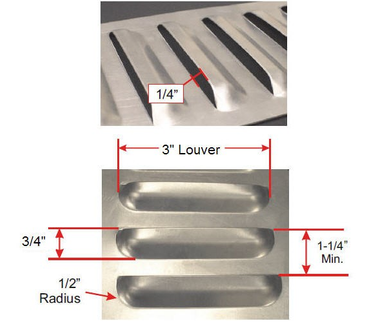 VINTAGE LOUVER PRESS
Punch those 50s Hot Rod louvers in a Jiffy! Thats what the guy that built this did back in the 50s for 10 cents a punch. I bought it from the second owner who had it since the 70s. This one only has a 3" wide die set (I have 2 of these at auction), Works Great and I'm somewhat reluctant to see it go... 40" depth, Belt driven pump, Oldie but Goodie!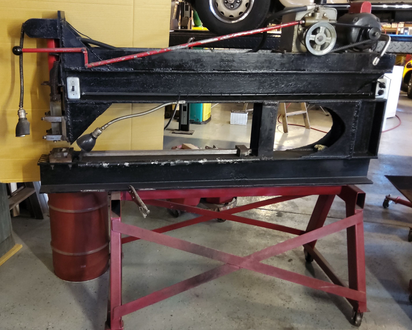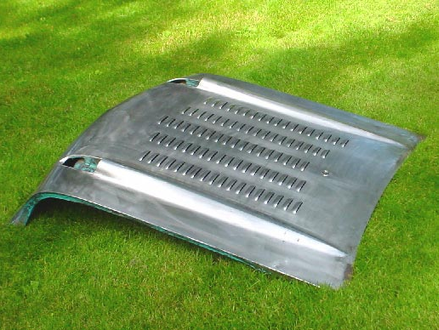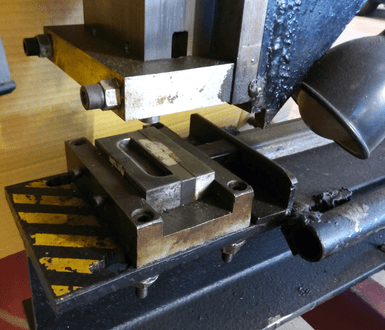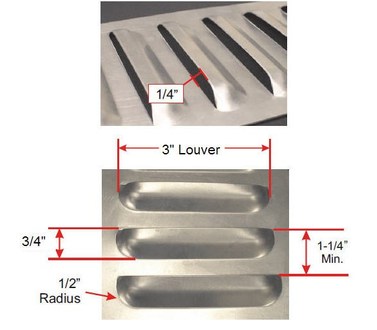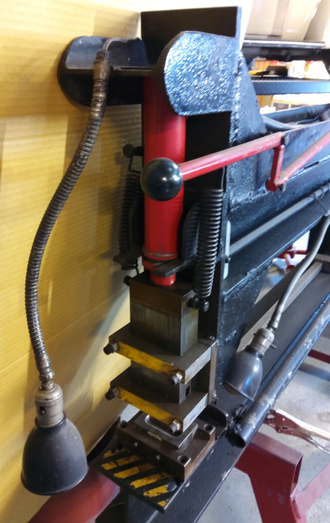 WATER BORNE PAINT GUN CLEANER
I included a photo from an online ad. These are expensive, but you'll buy this one for much less than their new price. You can google the name and model to read all about this item. I never used it myself.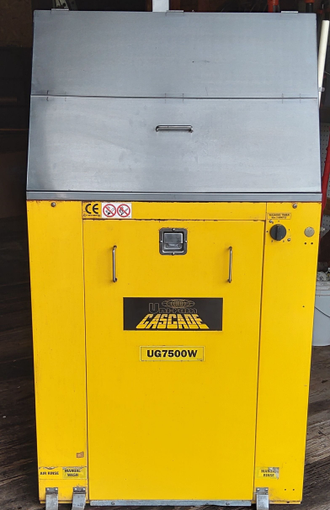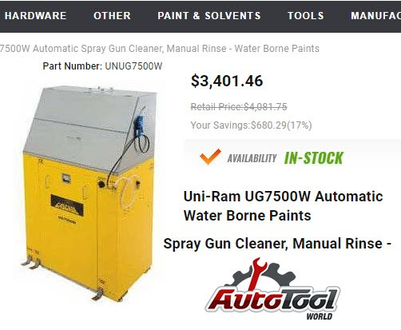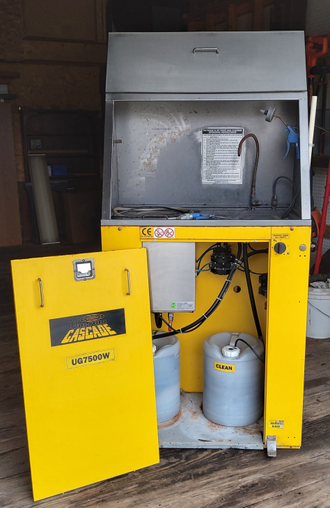 "ADVANTAGE ENGINEERING" ENGINE FLUSH MACHINE
This company makes flushing machines for many applications. This one flushes the oil galleys in an engine. They ain't cheap, but you'll buy this one for a bargain I'm sure. I've never used it but you can type their link from one of the photos in your browser. They have a downloadable manual and video's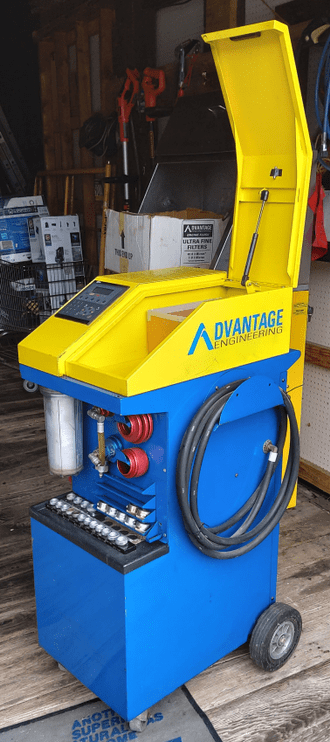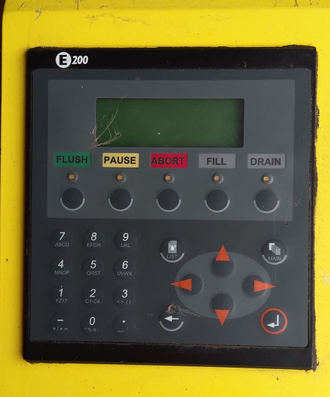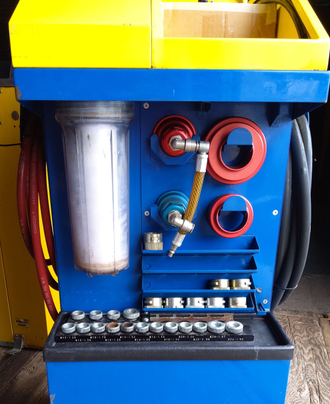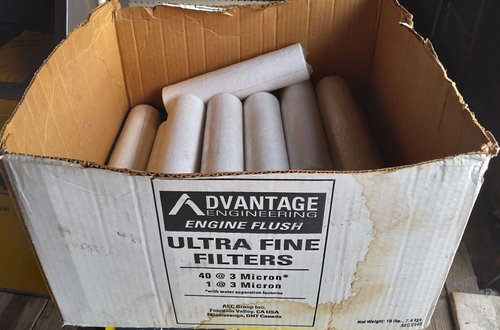 SCREEN PRINTING DRYING RACK
Has 50 flip-up racks, 52" wide x 41" front to back and about 6' tall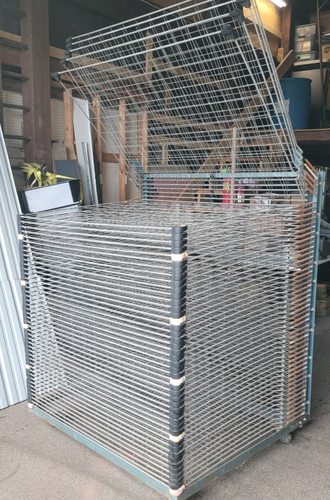 COMMERCIAL RETAIL SALES RACK
Stand about 6' tall, nice condition, See Photo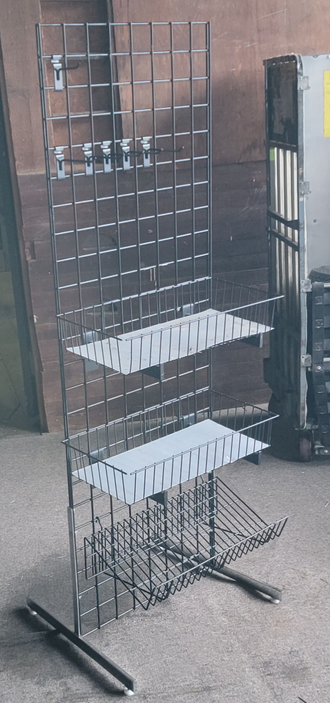 FULL SIZE VAN MOUNTED LADDER RACK
This is on my sons Chevy van and will not be on site at auction, Please do take a look at the photos and call with questions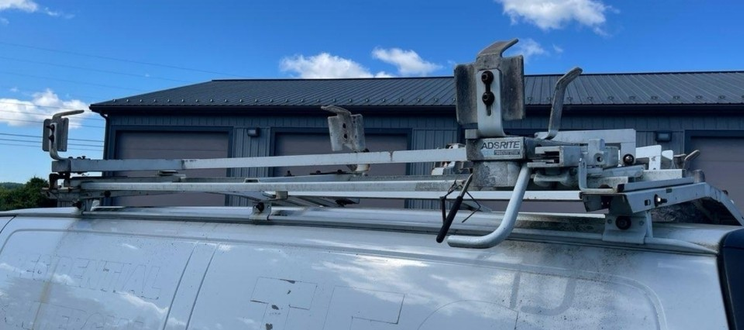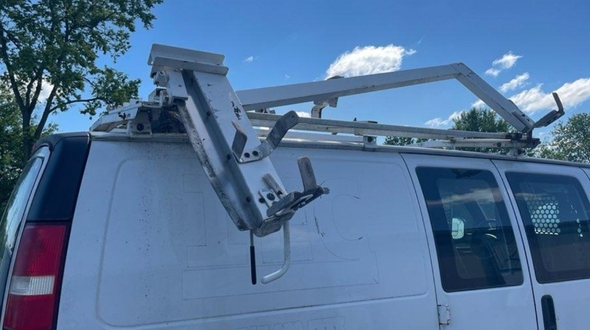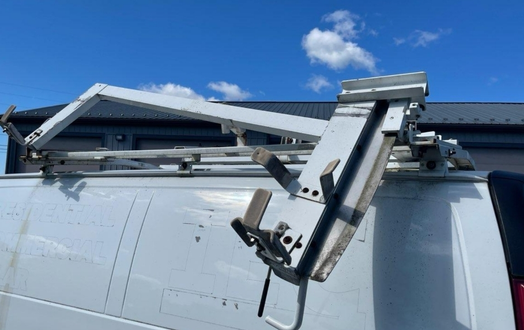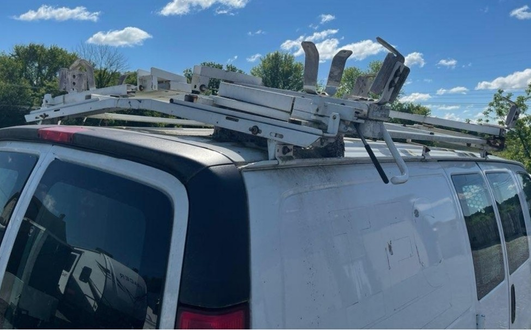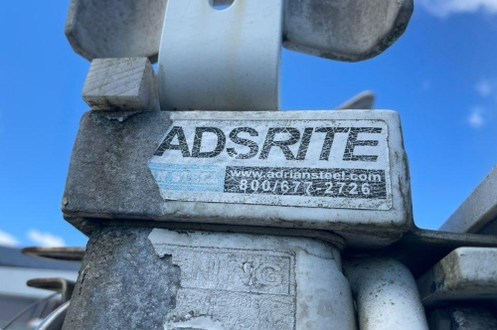 WAZER WATER JET CNC CUTTER
Click on the
WATER JET LINK
to go to a dedicated page for this item. This is "new", still in the box, with everything you need including a pallet of abrasive. CHECK IT OUT!!
just below are some direct links to other pages on this site, containing hot rods & misc. items. keep scrolling down then for other items